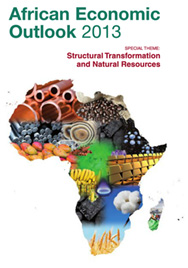 The African Economic Outlook 2013 was released on May 26 showing promising results by the African Development Bank (AfDB), OECD Development Center, Economic Commission for Africa (ECA), and the UNDP.
Africa's economy is projected to grow by 4.8% in 2013 and accelerate further to 5.3% in 2014. The report argues that African countries must tap into their natural resource wealth to accelerate the pace of growth and ensure the process can benefit ordinary Africans.
According to the report, four key elements are needed to achieve that objective. First, African countries should create the right conditions for such a transformation to take place, including infrastructure, education, and the creation of larger and more competitive markets.
Then the primary sectors require sound land management, balanced and effective tax systems, and the right mechanisms and incentives to cause an acceleration and diversification of the sources of growth.
Third, governments and investors must ensure that a fair share of the proceeds from natural resources and extractive industries accrue to society.
Finally the report suggests that African countries can foster change and economic diversification actively, for example through corridors of development around power, transport, and communication lines.
www.africaneconomicoutlook.org
  Become a Member of our Linkedin Group
Powered by WPeMatico