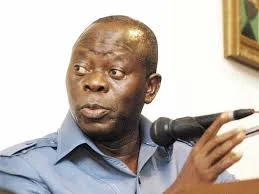 According to Vanguard, Edo state governor, Adams Oshiomhole said he would sign the death warrants of convicts who killed their victims.
Oshiomhole gave this assurance when members of the Conference of Non-Governmental Organisations (CONGOs) paid him a courtesy visit in Benin, last Thursday.
"There are seven convicts whose cases are being reviewed. I will sign the death warrant of any of them, especially kidnappers, found to have killed any of their victims.
"I…
Governor Oshiomole to Sign Death Warrants of convicts who killed their victims
Powered by WPeMatico