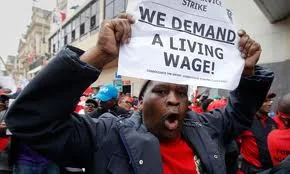 South African construction and airport workers have gone on strike to demand higher wages, dealing another blow to the troubled economy.
According to BBC News Africa, Car workers have already been on strike for a week, while gold miners are also threatening to down tools.
Car workers want a 14% pay rise, while gold miners have rejected a 6% offer.
The government has called on the workers to ensure all strikes are peaceful.
Powered by WPeMatico